Why Recruiting Black Males into Teaching is Important to the Profession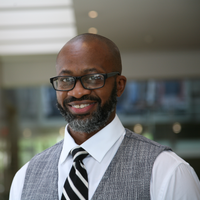 Author: Dr. Ernest Black
Affiliation: Director, CalStateTEACH
Date Submitted: 08/01/2019
Education Week (February 25, 2014), NEA Today (September 22, 2015), Black Enterprise (August 3, 2018) have all asked the same question in varying ways. Where are the Black male teachers? Currently, 2% of all U.S. teachers fall into this demographic category. That means that there are only about 60,000 Black male teachers among the 3.1 million public school teachers in the United States (Kena et al., 2016). Yet, approximately 15% of all current public school students identify as Black and another 4% identify as mixed race. Black boys constitute about 8 to 9% of all public school students, but they account for 31% of all arrests on school campuses and referrals to law enforcement (Civil Rights Data Collection, 2018). They also account for 17.6% of out-of-school suspensions. The most commonly identified reason for in-school and out-of-school suspensions for this group of students is something called "disruption."
In 2014, California Governor Jerry Brown signed legislation to decrease suspensions based on defiance and disruption. Just two years prior, California had 335,079 suspensions based on willful defiance. By 2018, that number had decreased to 59,808, but even after this dramatic decline, Black students were still three times more likely to be suspended than their white counterparts (EdSource, 2018). These in-school (where the student is at the school site, but not in class) and out-of-school suspensions (where the student is unable to return to the school site for a set number of days), along with overrepresentation in special education and underrepresentation in gifted programs, contribute to a higher dropout and incarceration rate for Black boys (Bireda, 2002; Lee, 1996; Patton, 1998).
The articles mentioned at the start of this blog suggest that reducing the rates of suspension and the school-to-prison pipeline for Black boys can be accomplished, at least in part, by increasing the number of Black male teachers. Black male teachers are also powerful and empathetic role models and authority figures for Black boys in the classroom. They are able to lead by example and can demonstrate how Black boys can become successful in school without giving up their cultural competence. The hope for an "each one, teach one" mindset helps to create a college-going culture by developing the skills Black male students need to be successful in both K-12 and higher education. Assigning a black male to a black teacher in the third, fourth, or fifth grades significantly reduces the probability that he drops out of high school, particularly among the most economically disadvantaged black males. Exposure to at least one black teacher in grades 3-5 also increases the likelihood that persistently low-income students of both sexes aspire to attend a four-year college (Institute of Labor Economics, 2017).
Black male teachers have navigated both the K-12 and higher education system. In this way, they provide hope for young Black boys in their classrooms. Black male teachers serve as educators, role models, and an empathic persons of authority in the classroom. They are able to lead by example, helping Black boys become successful in school without sacrificing cultural competence. We know this works because Black students who have at least one Black teacher in their K-12 experience are more likely to complete their schooling, go on to college, and have a higher grade point average.
The positive impact Black male teachers can have is not limited to Black boys. All students, regardless of their own race, ethnicity, and gender stand to benefit. That's because many students have not interacted with any Black person, much less with a Black male classroom teacher. Black male teachers serve as models of effective leadership for all students to emulate, and their presence will help to break down harmful stereotypes.
Black male teachers can also have a positive impact on the other teachers by demonstrating how to use culturally responsive teaching to engage students in learning, for example, or to use restorative justice methods rather than punitive measures (including suspensions) to build community and resolve conflicts.
But recruiting more Black males into the teaching profession is no easy task. In most states, becoming a teacher means earning a bachelor's degree and meeting the requirements to earn a teaching credential or certificate. While 48% of Black men, ages 25 and up, have attended college, only 17% of them in the same age group have earned a bachelor's degree (United States Census Bureau, 2013-2017). Many students of color, including Black males, are undereducated during their K-12 school experiences, leaving them inadequately prepared for higher education (Irvine, 1988).
Black males have been drawn into the teaching profession because of their commitment to impact the lives of Black children (Goings & Bianco, 2016). However, once they enter the classroom as a pre-service or new teacher, many discover that they are not just expected to teach and be role models; they are often expected to serve as their school's primary disciplinarians (Emdin, 2016)—an unreasonable expectation that likely contributes to the high attrition rate among Black male teachers.
Given the clear benefits to students who have Black male teachers, teacher preparation programs should actively recruit Black males into the programs, and they must equip them with the skills that they need to handle multiple expectations. Teacher preparation programs and school districts should also provide mentoring for pre-service and novice Black male teachers. Doing so would provide opportunities for novice teachers to learn and interact with professionals who have been successful in the profession and individual school systems. The Diversity Toolkit provides numerous strategies designed specifically for recruiting, retaining, and supporting teachers of color.
References
Bireda, M. R. (2002). Eliminating racial profiling in school discipline: Cultures in Conflict. Lanham, MD: Scarecrow Press.
Civil Rights Data Collection (n.p.). School Climate and Safety. Retrieved from https://www2.ed.gov/about/offices/list/ocr/docs/school-climate-and-safety.pdf This link will open a PDF file from an external website in a new tab.
Emdin, C. (2016, August 27) Why Do Black Men Quit Teaching. The New York Times.
Gershenson, S., Hart, C.M.D., Lindsay, C.A., Papageorge, N.W.(March 2017). The Long-Run Impacts of Same-Race Teachers. Retrieved from https://www.iza.org/publications/dp/10630 This link will take you to an external website in a new tab..
Goings, R. B., Bianco, M. (2016). It's hard to be who you don't see: An exploration of Black male high school students' perspectives on becoming teachers. The Urban Review, 48, 628-646.
Hawkins, B.D. (September 2, 2015). Where Are All the Black Male Teachers? Retrieved from http://neatoday.org/2015/09/22/where-are-all-the-black-male-teachers/ This link will take you to an external website in a new tab..
Irvine, J. J. (1988). An analysis of the problem of disappearing Black educators. The Elementary School Journal, 88, 503-513.
Johnson, K. (August 3, 2018). How Many Black Male Teachers Did You Have Growing Up? Retrieved from https://www.blackenterprise.com/how-many-black-male-teachers/ This link will take you to an external website in a new tab..
Kena, G., Hussar W., McFarland J., de Brey C., Musu-Gillette, L., et al. (2016). The condition of education 2016 (NCES 2016-144). Washington, DC: U.S. Department of Education, National Center for Education Statistics. Retrieved from http://nces.ed.gov/pubsearch This link will take you to an external website in a new tab..
Lee, C. C. (1 996). Saving the native son: Empowerment strategies for young Black males. Greensboro, NC: ERIC Counseling and Student Services Clearinghouse.
Nicolas, D.G. (February 25, 2014). Where Are the Black Male Teachers? Retrieved from https://www.edweek.org/ew/articles/2014/02/26/22nicolas_ep.h33.html This link will take you to an external website in a new tab..
Patton, J. M. (1998). The disproportionate representation of African Americans in special education: Looking behind the curtain for understanding and solutions. The Journal of Special Education, 32(1), 25-31.
Washburn, D. & Willis, D.J. (December 11, 2018). School suspensions continue downward trend in California, new data show. Retrieved from https://edsource.org/2018/school-suspensions-continue-downward-trend-in-california-new-data-show/605946 This link will take you to an external website in a new tab..