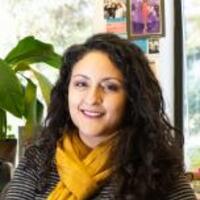 Educational Equity Coordinator
Before college, Karina Figueroa-Ramirez had never been in a class led by a Latinx teacher. When she became a teacher years later, many people assumed she either taught Spanish or kindergarten.
"What really made me think was when people would tell me I didn't look like a teacher," Figueroa-Ramirez said. "What does a teacher look like?"
Today, the three-time Sacramento State alumna is drawing on that experience at her alma mater, where she is the College of Education's equity coordinator. Through her work, she plays a leading role in the College's efforts to recruit, retain and graduate into the teaching profession first-generation, multi-cultural, and multi-lingual students.
Figueroa-Ramirez's primary job responsibility is advising students both within and outside the College of Education who might be considering teaching. When meeting with students, she works to learn and understand their academic and professional goals, so that she is better able to anticipate their questions and connect them to on- and off-campus resources.
She also oversees the College's educational equity peer mentors and is heavily involved in campus outreach efforts, such as establishing and maintaining "Future Teacher Clubs" at local high schools and community colleges.